Create report templates, forms, questionnaires or checklists.
Custom Forms are an easy way to create templates for your inspection and reporting process.
Forms are created and managed in the magicplan Cloud. Once completed, they can be published to the magicplan App and shared with your workspace and team members. Forms can be exported in the Report PDF.
What are Custom Forms?
Forms provide a structured workflow for you to collect the information you need in order to get your work done. The magicplan Cloud allows you to create templates with lists of questions that can be assigned to the overall project, floors, rooms, or objects – it's totally up to you.
Watch the Tutorial to see how to create Custom Forms
After creating a Custom Form in the Cloud, all you have to do is sync it with the app. The two steps are:
Click the publish button on the magicplan Cloud.
Update your workspace configuration in the app with the red dot that will show up in your 'Profile'.
With Custom Forms, you can easily:
Add a set of questions to a form
Format by adding sections & separators
Apply logic to create follow-up questions
Organize questions using drag & drop
Mark important questions as mandatory
Assign forms to a specific context (project, floor, room, object)
Share form templates to your workspace and team members
Question types include:
Yes/No questions
Drop-down questions
Text Fields
Distance (includes imperial and metric units)
Number
Photo (allows you to add photos from the gallery or take it on-site with the camera of your smartphone)
Colour (uses colour selector of the app)
Date & Time
Duplicate Forms
You can also duplicate your Custom Form within your Workspace. Simply select the 'Duplicate' option next to the name of your Custom Form in your magicplan Cloud. Then make sure to hit 'Publish'.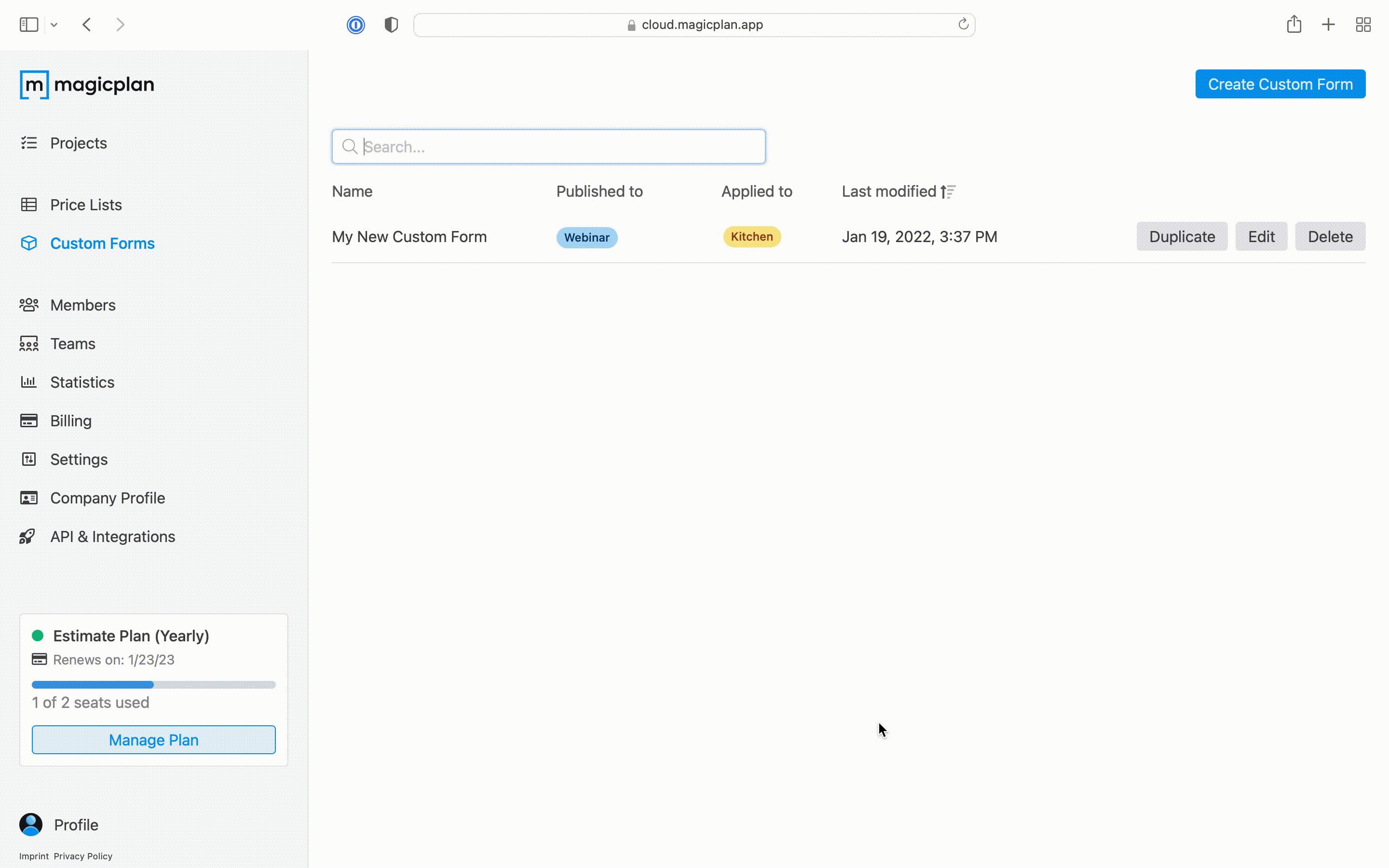 Et voilà! Your custom form is displayed on the detail screens on the project, floor, room, or object level.