3D models on the cloud can be easily viewed, shared and published with just one click.
You don't need a 3D expert to create a 3D model with magicplan. View, share or add the 3D model to your website. It is easy - just follow the steps below:
After having uploaded your plan to the Cloud, enter the Cloud at https://cloud.magicplan.app/.
Select a project from the Projects section.
Choose the floor you want to view.
Click on the "3D Floorplan" button in the top left corner from the dropdown menu.
Scroll to zoom in or out, left-click and move the mouse to turn the entire model or right-click and move the mouse to move the centre of the model.
If you have a touch screen you can use two fingers to zoom in and out, with one finger you can turn the entire model and by using three fingers you can move the centre of the model.
You can add a 3D model to your website by using the embed code option in the top right of the screen.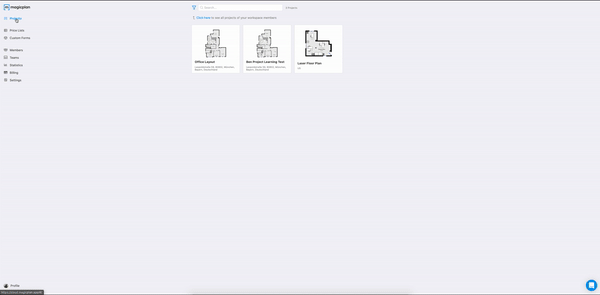 Note: Make sure you have assembled all your rooms correctly in the app before rendering the 3D model. Otherwise there is a chance that rooms are overlapping and the 3D view is displayed incorrectly. If rooms overlap the affected area will be covered by a grey "shadow" in the 3D view.

You can also view 3D models in the magicplan app. In that case, there is no need to upload the plan to cloud. Learn how you can view the 3D model with a single tap.