Send magicplan sketches to a corresponding PlanGrid project, to collaborate and share markups, attach documents and raise issues.
PlanGrid is a state-of-the-art collaboration software for construction teams. It enables you to make annotations and edits to blueprints in real time while being on-site. With PlanGrid and magicplan partnering up, you can combine features from both software products to optimize your workflow: Create new drawings on site using magicplan's state-of-the-art AR and LiDAR supported workflow, transfer the sketch to PlanGrid with one tap and start editing your blueprint.
Here you can find out more about the benefits of using magicplan together with the PlanGrid integration.
If you are interested in more details about the collaboration of magicplan and PlanGrid we recommend you to check out this blogpost.
How can I activate the PlanGrid Integration?
The PlanGrid integration is included in magicplan's "Report" and "Estimate" subscriptions as well as in all legacy ("Business" and "Standard") subscriptions.
If you are subscribed to one of these plans you can activate the integration in the magicplan cloud. Simply follow these steps:
Open the magicplan cloud in your browser and log in with your credentials
Select API & Integrations in the menu bar on the left
Click on Enable to activate the PlanGrid integration
Go back to the main screen of the magicplan app and refresh by swiping down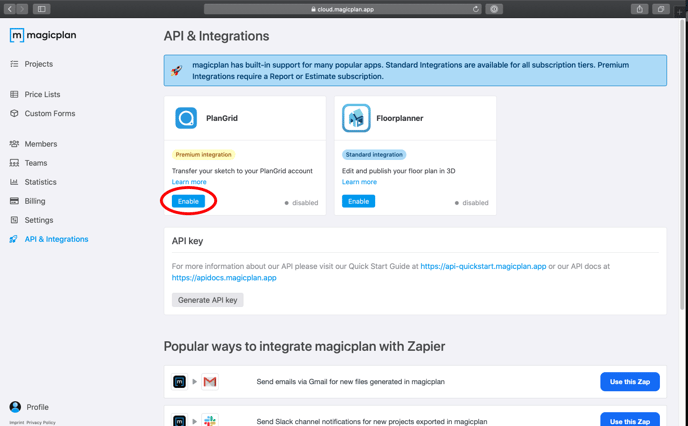 How do I transfer my drawings from magicplan to PlanGrid?
After you have activated the PlanGrid integration the data transfer is really easy. This is how you do it:
Open the project you want to transfer in magicplan
Select Files and Sharing
Tap on PlanGrid
Log into your PlanGrid account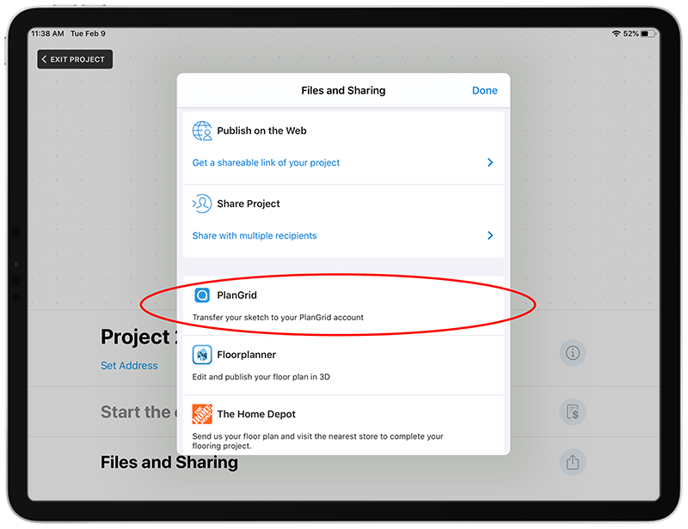 And that's it! magicplan then transfers the sketch into your PlanGrid account from where you can make further edits.
This video briefly demonstrates how working with both magicplan and PlanGrid to optimize your workflow. Go ahead and check it out.
Have fun creating projects!