How to select the right Workspace or Team to work on collaboration projects.
To get more information about the broader concept of Workspaces and Teams, check out our
article
or our
magicplan Blog
!
How do I switch between Workspaces and Teams in the App?
magicplan on a Phone
Tap on the Switch Icon on the top left corner and select the respective Workspace.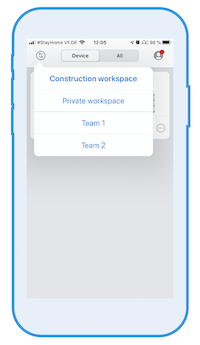 magicplan on a Tablet
The name of the Workspace or Team you are currently working in is displayed in the top left corner. Tap on the name to select another Workspace or Team you would like to work in.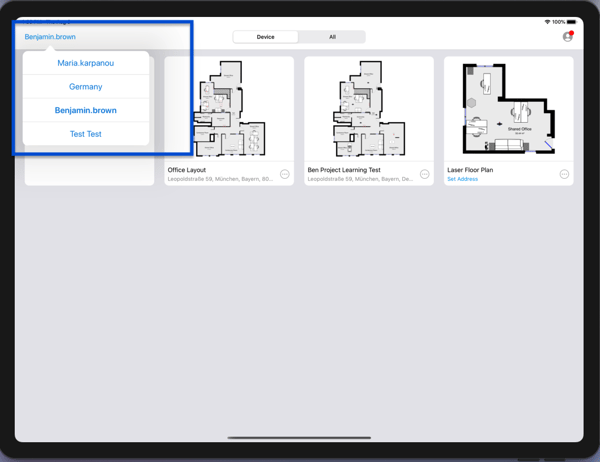 When does this apply to me?
If you are part of more than one Workspace (e.g. you work with magicplan as part of an enterprise account)
If you have created one or more Teams in your own Workspace
If you are part of one or more Teams as a guest
Why would I want to switch from one Team or Workspace to another?
In order to collaborate with other users more efficiently, magicplan users on a Sketch, Report or Estimate Subscription Plan can create Teams and invite users from their own Workspace or external guests with a valid magicplan subscription of the same tier or higher.
When you switch in the magicplan App from one Team or Workspace to another, you will notice that all your projects are automatically filtered. You will only see those projects that you have created for this specific Team. Moreover, when you start working on a new project, this will be automatically synced to the respective Team. That means the respective Team Admins can immediately see all relevant information and track the progress of their projects.
Finally, depending on the Workspace or Team you have selected, you are able to work with different price lists, custom forms or a different export configuration - as those can be set up specifically for a Team by the Admin.
Why do I see locked plans in my magicplan App when I switch to my personal Workspace?
If you are part of a company account and a member of that company's Workspace (your company or someone else is paying for your subscription), you will have to select the respective Workspace or Team in the App to have full access to magicplan.
Nevertheless, every magicplan user still owns their own, personal Workspace. That way you can purchase your own subscription plan for personal use and keep those side projects completely separate from your professional magicplan account. If you don't have the need for a subscription for personal use, you still have two free, fully-featured projects available in your personal Workspace - like all our magicplan Free users.
I have been invited to a Team by another user. How can I create my project for that Team?
If you have been invited to contribute projects to another Team outside of your Workspace, you will join this Team as a Guest. This means you can be removed by the Team Admin at any point in time, for example after a specific project is finished.
Same as with switching between your own Workspaces and Teams, you can choose the Team by tapping on the button in the top left corner of your magicplan App and select the name of the Team. All you have to do now is start your project - it will be automatically synced to the correct Team.
Please note: As soon as you leave the Team you have been contributing to as a Guest, you won't have access to the projects you contributed anymore.