This release introduces new sharing capabilities, technical improvements for the AR Room Scan as well as several usability improvements.
Version number: 2022.15.0, Release date: December 12th, 2022
Starting with version 2022.15.0 we will no longer ship app updates for Apple users on iOS14. Please update your Apple device to iOS15 or later!
Not sure which app version you're using? Open the app, navigate to the settings menu and scroll down to see the version installed on your device.
---
Project Sharing
With the latest update, we added additional functionality for project sharing. In the project sharing settings, you can control access within your Workspace or Team and configure a shareable project link!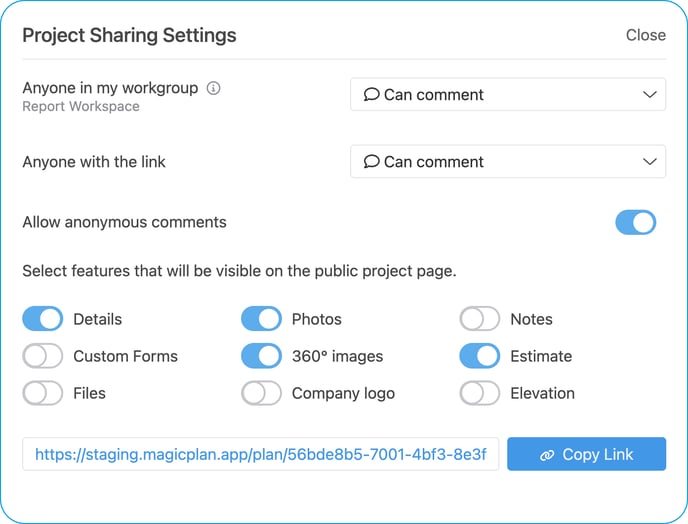 Available permissions:
Can view
Can comment
Has no access
Project sharing is currently available for free users, Report, and Estimate customers.
---
AR Room Scan (iOS Only)
Version 2022.15.0 includes a technical update of our AR Room Scan. This update drastically improves performance and stability.
Please note: The updated AR Room Scan currently does not support wall and ceiling detection for devices equipped with LiDAR sensors. We will reintroduce wall and ceiling detection in early 2023.
---
UX Enhancements
We are on a mission to build great, easy-to-use tools for professionals! To this end, we try to push UX enhancements every month. If you have feedback, please share your ideas - We're always happy to connect with members of our community!
Laser Distance Meters: You can now set the width of walls or objects by simply selecting the object
You can now define large imperial dimensions (previously limited to 399 ft)
You can now filter Workspace statistics by Team
Customers paying via PayPal or custom subscription deals can now download their invoices on the Billing page
---
Bug Fixes
In our continued effort to keep magicplan reliable, we eliminated several key bugs:
Fixed: After switching to elevation view by double-tapping, touch interactions deactivated for a few seconds
Fixed: Changes to the room color are not saved
Fixed: Connecting two rooms that share an interior door, causes the door to appear as a duplicate in the statistics even though it is now only one door
Fixed: Text in text boxes is overlapping in PDFs, which makes the text ineligible
If you contacted our success team about a specific issue you faced, please make sure to check your inbox for any updates.
---
Webinars