With this update we are improving the usability of the floor plan editor and further expanding the object catalog
Version number: 2023.7.0, Release date: June 26th, 2023
This release improves the usability of the floor plan editor and introduces new furniture and bathroom objects. 📐
Not sure which app version you're using? Open the app, navigate to the settings menu, and scroll down to see the version installed on your device.
---
UX Enhancements
We are on a mission to build great, easy-to-use tools for professionals! To this end, we try to push UX enhancements every month. If you have feedback, please share your ideas - We're always happy to connect with members of our community!
New objects: We have updated the object catalog with new 2D and 3D objects for Bathrooms and Dining Rooms.
Provide feedback: The "My Account" tab noch includes self-service feedback options feature requests and bug reports.
Improved readability when editing floor plans: We updated the the background color of the floor plan editor and added new icons in the "Add" menu. The next release will introduce more updates to UI elements.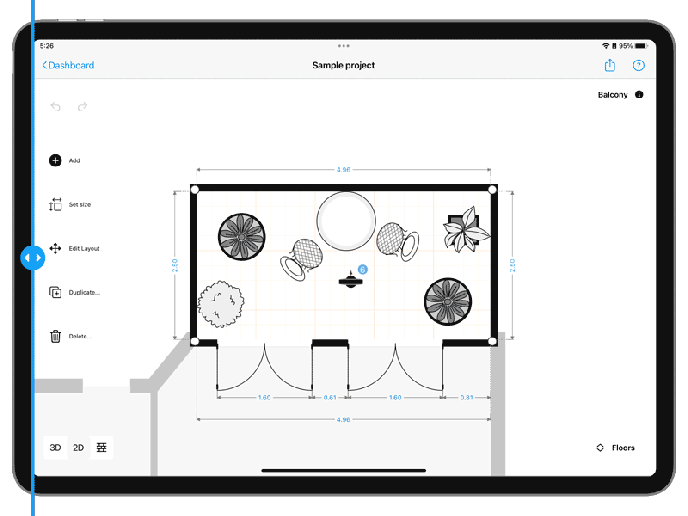 ---
Bug Fixes
In our continued effort to keep magicplan reliable, we eliminated several key bugs:
Fixed: [AR Scan] "Disable wall mode" toggle goes back to default after a while
Fixed: [Photos] Pressing cancel keeps the image, but exiting and returning removes the image
Fixed: [IFC export] Openings in magicplan are transformed as a door in the IFC file
Fixed: [Objects] 3D issues with some bedroom objects
Fixed: [Price List Manager] Items can't be removed from a module
Fixed: [Price List Manager] Items keep getting duplicated in modules
If you contacted our success team about a specific issue you faced, please make sure to check your inbox for any updates.
---
Webinars