Add a signature field in your Estimate PDF to make it easier for you and your clients to sign off quotes.
You have created an estimate for your project in magicplan, and are ready to export and send it. Beforehand, you can configure the Estimate PDF file to include a signature field at the bottom of the page, so the estimate can be viewed and approved all at once.
Follow these steps:
Open the project and tap "Files and Sharing"
Find "Estimate Files" and tap "Configure"
Scroll down to the "Signature Block" section and enable the signature block

Disable or enable the options that you want to display in the signature block, such as the first and last name fields, date field, and phone field
4. Tap "Done" and then tap "Estimate Files" to export your project
Once you receive your Estimate PDF, open it and scroll down to the last page. You will find the signature block at the bottom of the page, including the fields that you enabled in the export configuration.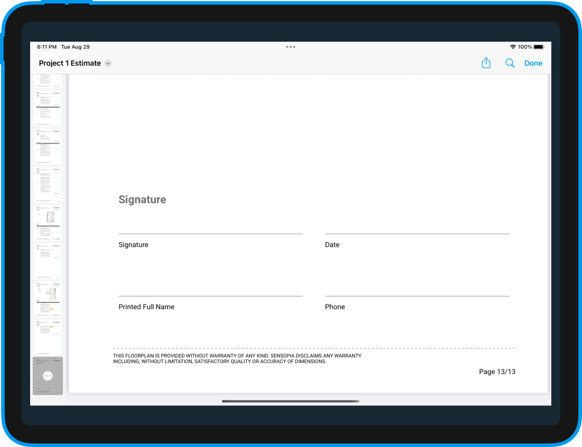 ⚠️ Caution: You can only add a signature to the exported Estimate PDF using a PDF viewer. You can not capture a signature directly within magicplan.